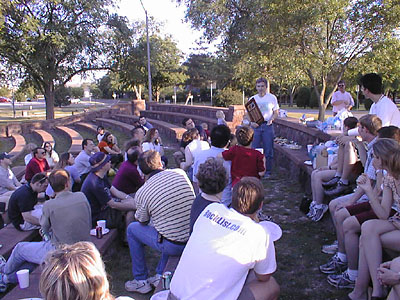 Our welcome picnic was combined with the COCAMS/NWA end-of-year picnic.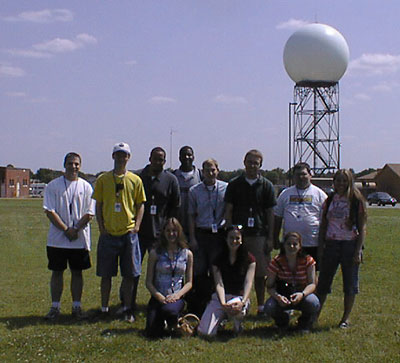 The group (minus 1) by the KOUN radar.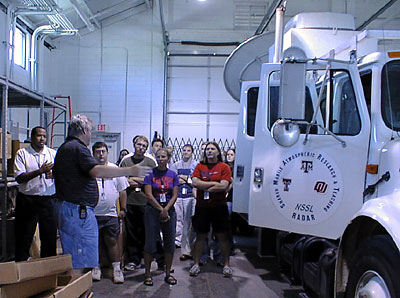 Lou Wicker tells us about the SMART-Radar project.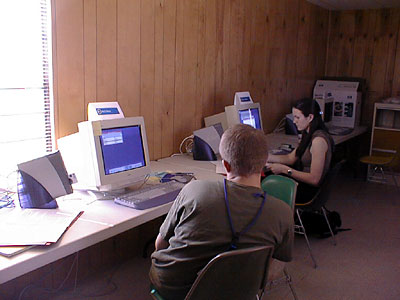 Nick and Becca read background materials for their projects.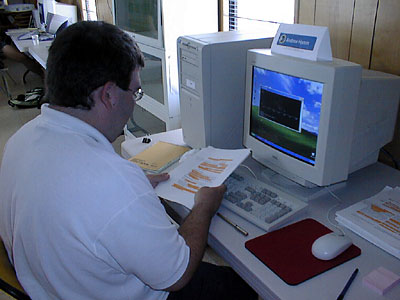 Andy is learning S-Plus.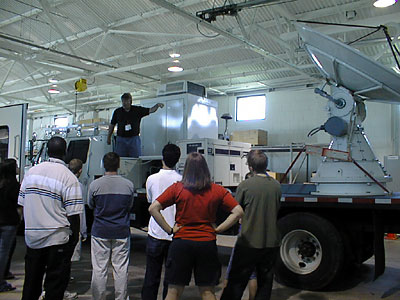 Lou explains how the radar works.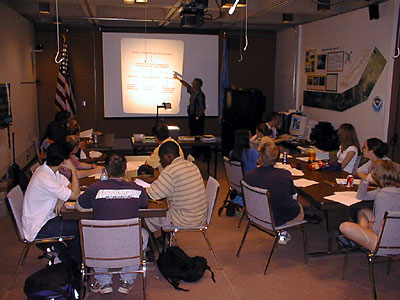 Bob Johns teaches a Severe Weather Forecasting Workshop.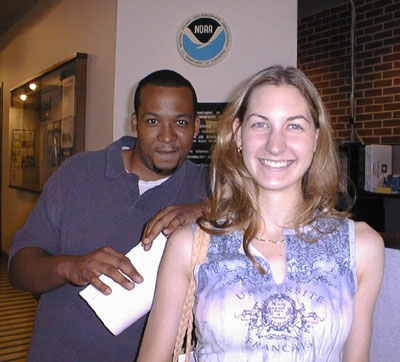 Marc and Vicki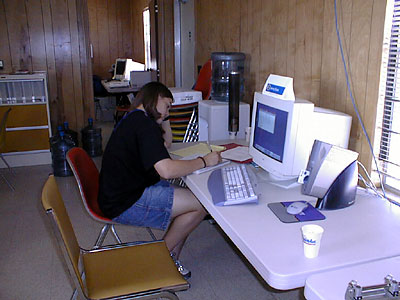 Jenny reads background material for her project.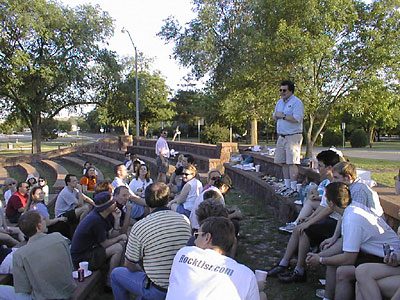 Ed Mahoney welcomes the REU, ORISE, SCEP, and SOARS students to Norman at the COCAMS/NWA end-of-year BBQ.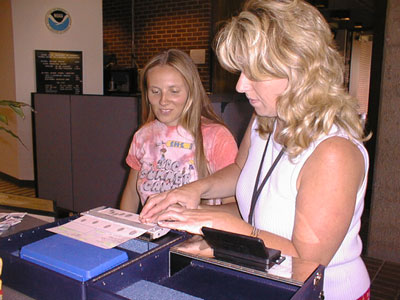 Maura is one of the students spending their summer with a mentor at NOAA's NSSL.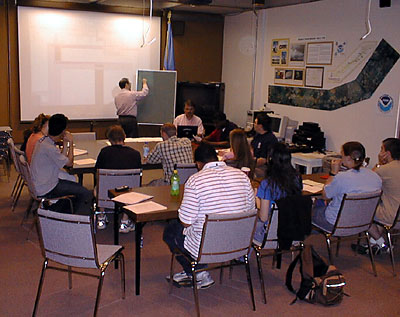 Mike Richman and Kim Elmore teach several statistical techniques commonly used in meteorology research.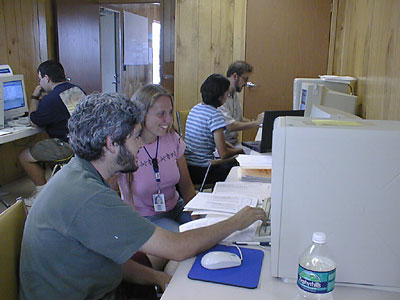 Maura and Maribel meet with mentors while Andy works with S-Plus.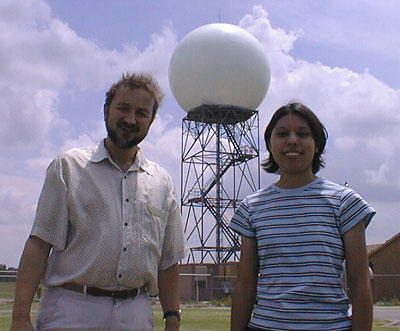 Maribel and Alexander Ryzhkov stand in front of KOUN, a dual-polarized Doppler radar.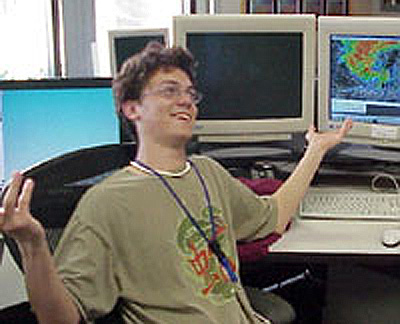 Mike, proud of his work.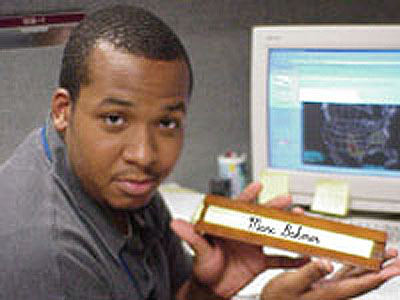 Marc, proud of his name plaque.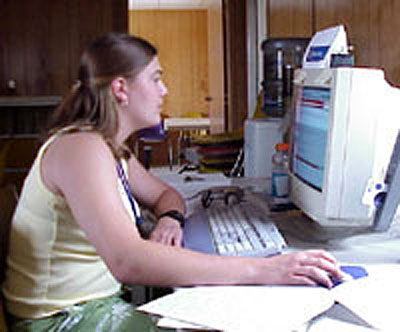 Here is Jenny, using a IHOP computer.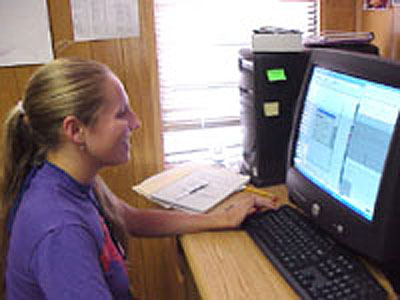 Here's Maura, checking out some files.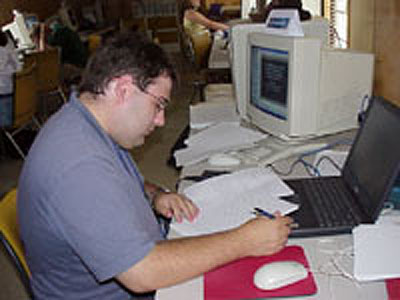 Andy's busily reading over some data.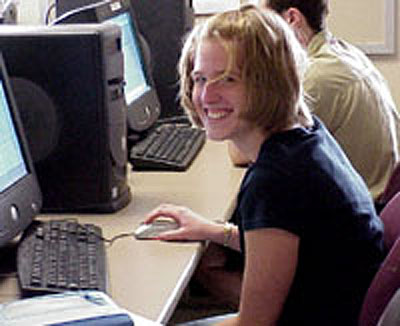 Tina, wishing S-Plus made more sense.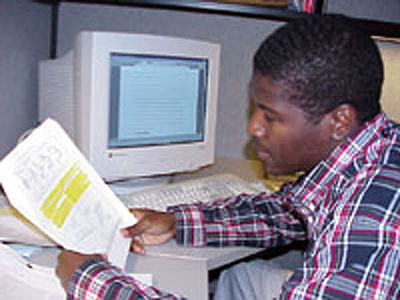 Allen, doing some of his reading (highlites!).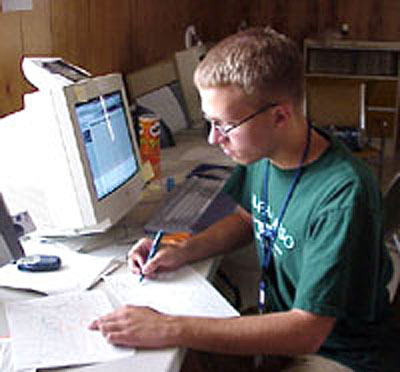 Nick, analysizing maps by hand.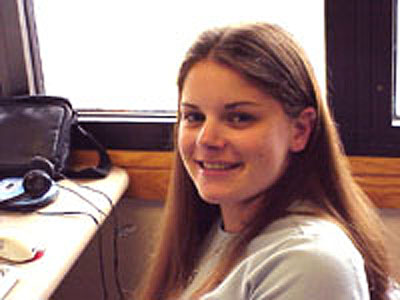 Christy, sitting high in SEC 1464.
Corey examines a table.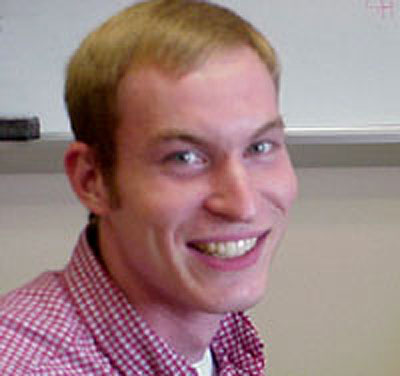 Here's Dustin looking happy.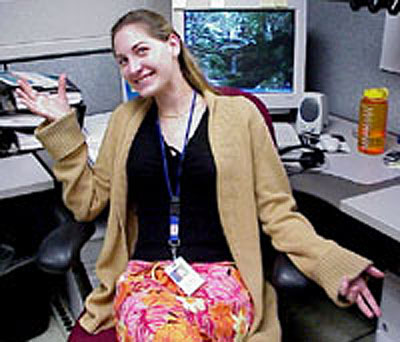 Vicki likes her cubicle.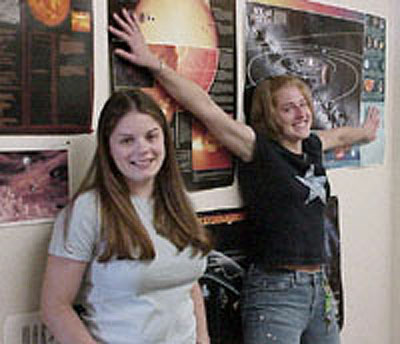 Christy likes astronomy, but Tina thinks meteorology is more important.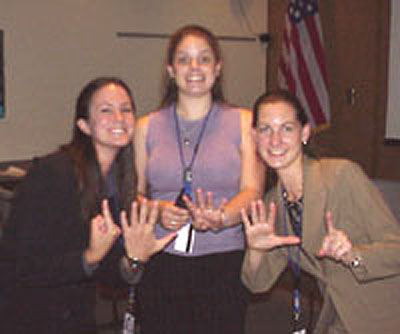 The girls of Six-Fo'-Six!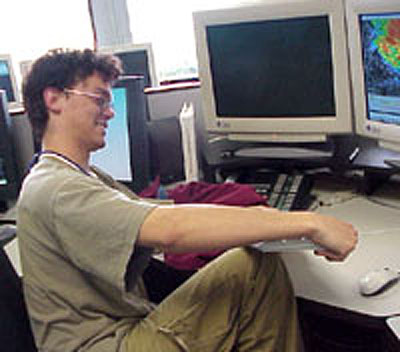 Mike's prefered way of dealing with computer problems.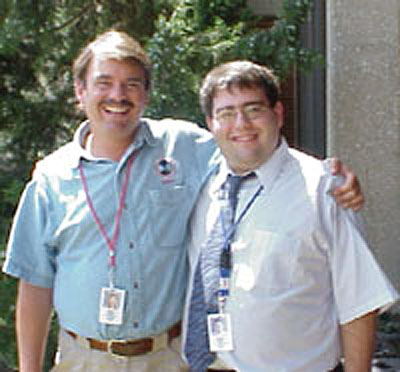 Andy and his mentor, Kim Elmore.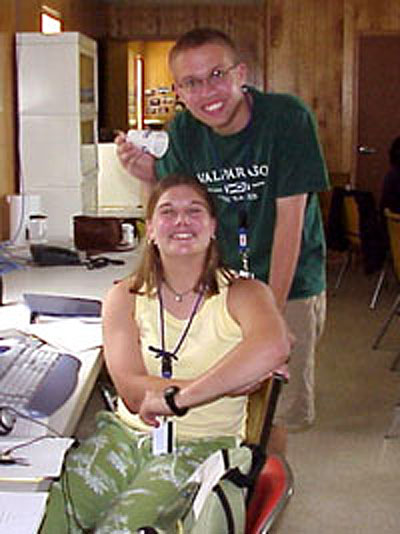 What was the score now, Prankstas?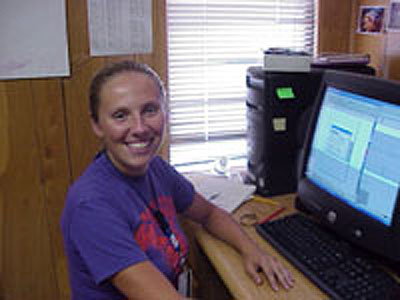 Maura thinks Lake Titicaca is awesome!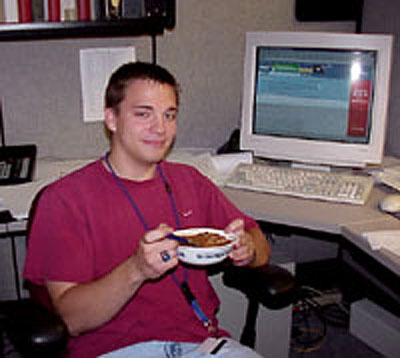 Mmmm... lunch...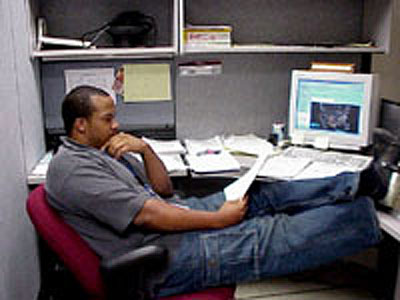 Thinking about the latest tornado chase.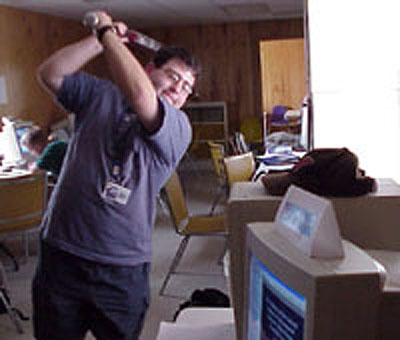 This computer gives Andy trouble. But not for much longer...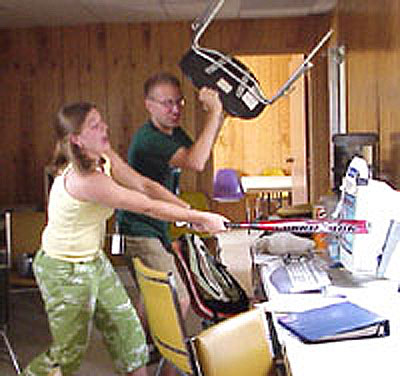 Looks like Nick and Jenny have had computer troubles too.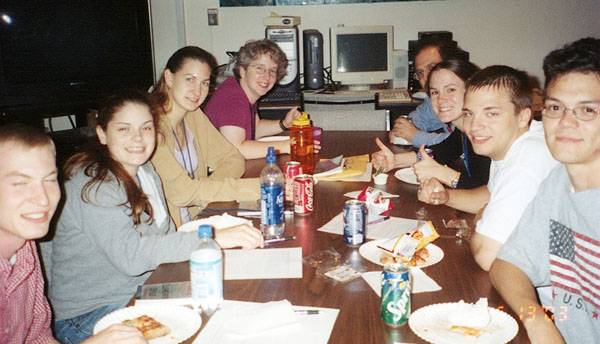 Here's one of the pizza lunches we had, with a mini-presentation (great for networking!).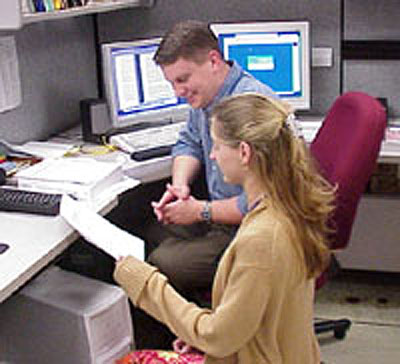 Vicki double-checks a paragraph with her mentor.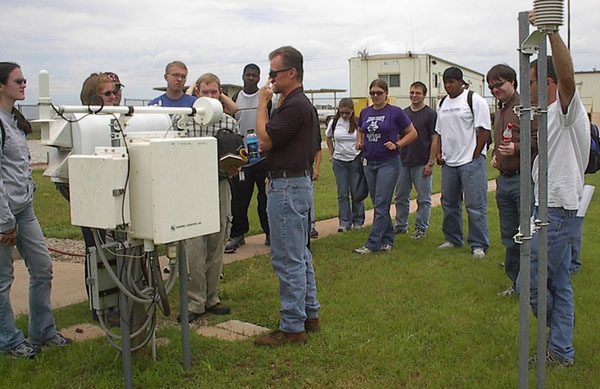 This is the Southern Plains ARM site.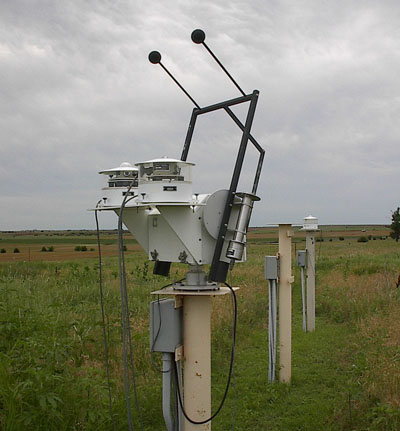 This is what I call a Widget. It measures solar radiation.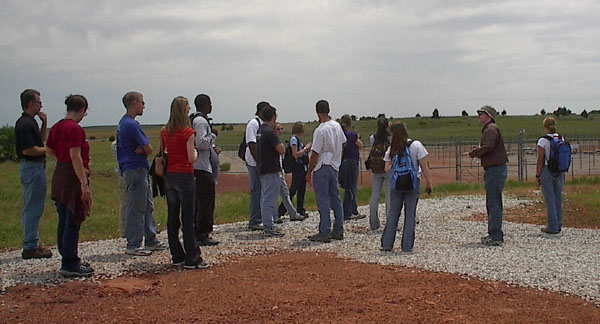 Here we are by the wind profilers.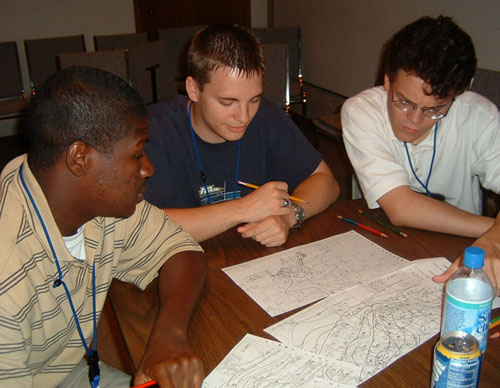 Allen, Corey, and Mike are learning how to forecast severe weather.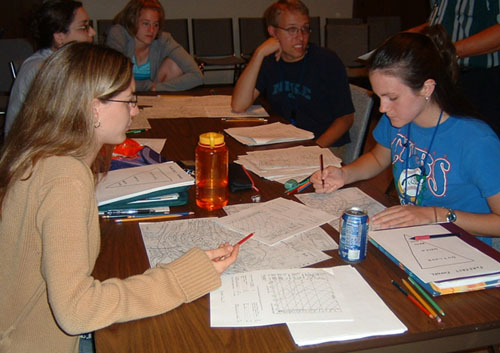 Everyone here is also predicting severe weather. Who will issue the correct watch?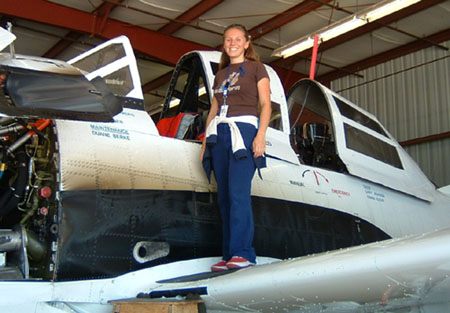 We also took a tour of the T-28, a research plane.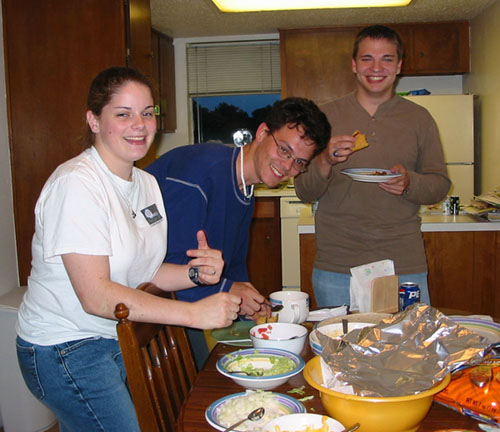 Everybody is welcome in 646!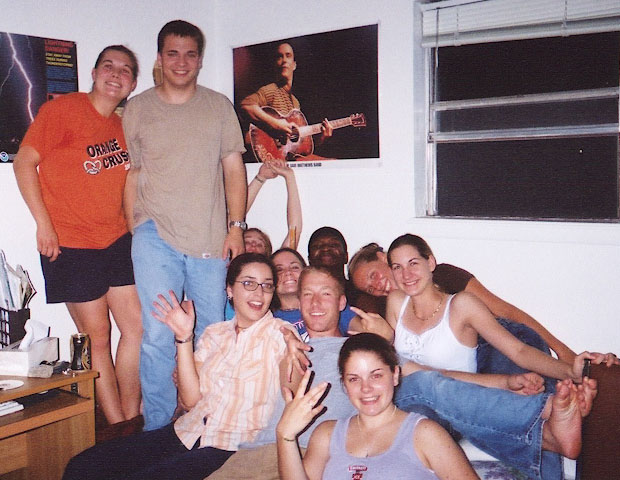 Do you feel the love?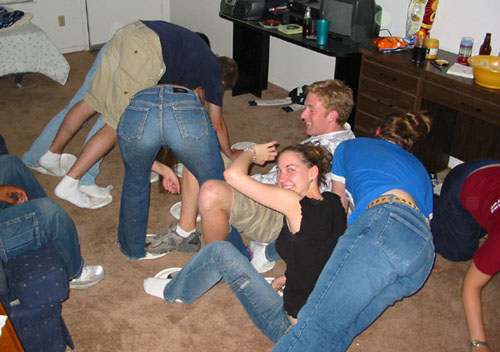 Playing on a home-made Twister® mat.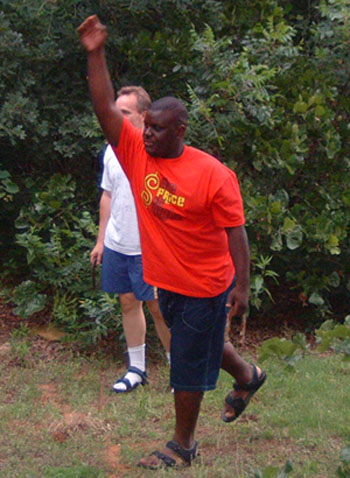 Ashton's great at horseshoes.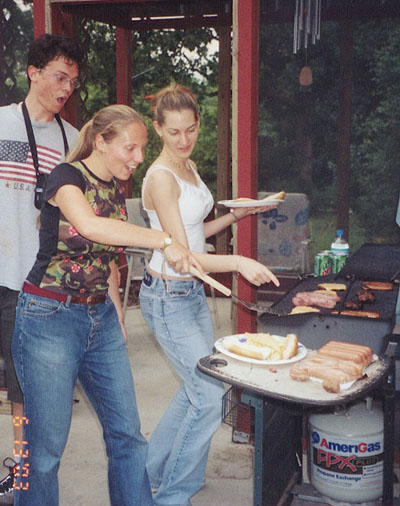 BBQing at Daphne's house was always a blast.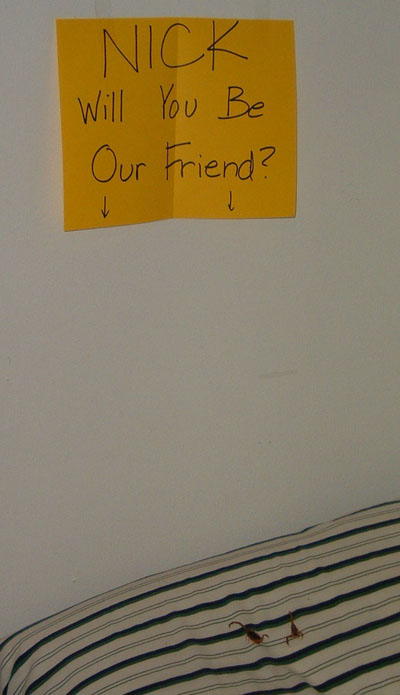 Some dead scorpions like Nick.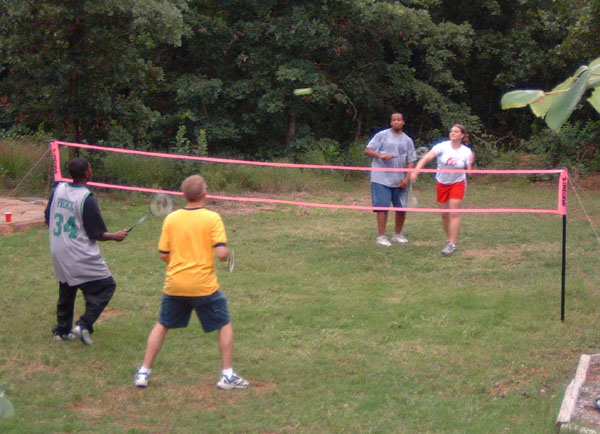 Introducing our obsession with badminton.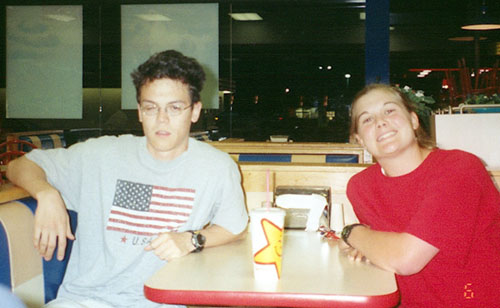 It doesn't look like Mike is enjoying his fast food.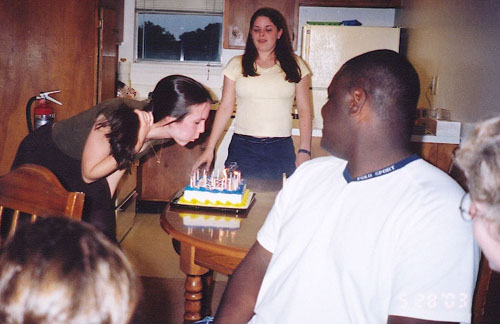 Becca's birthday party - Happy 21st!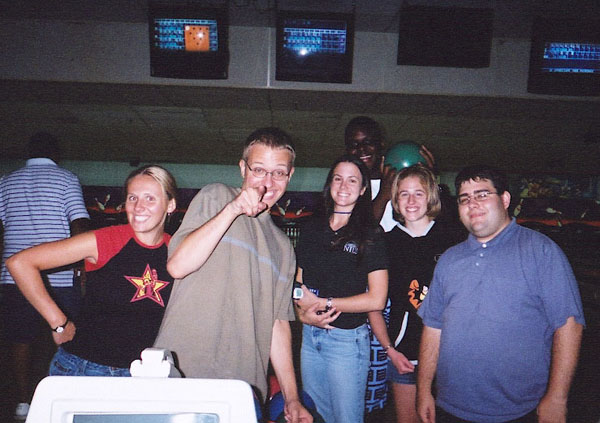 Nick, challenging the camera to a bowling duel.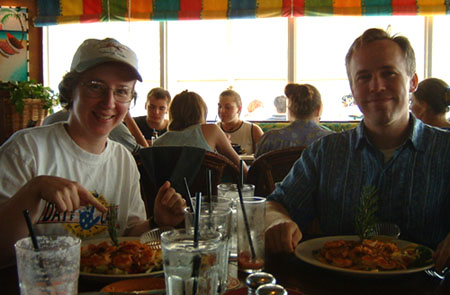 Daphne and Jim having some dinner.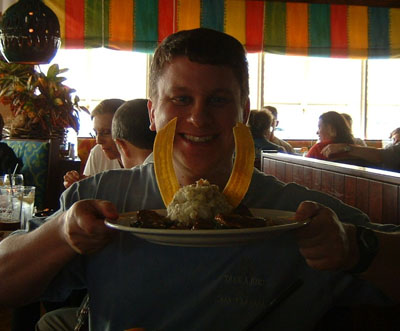 His food is art!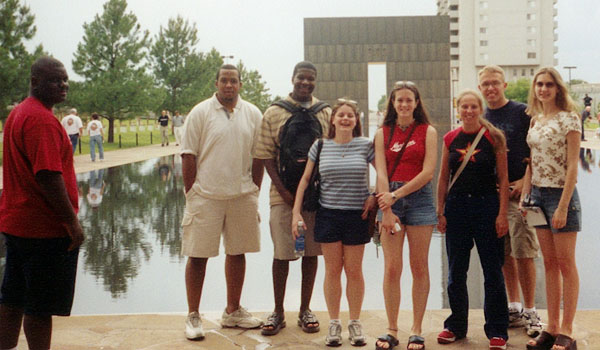 The group took a trip up to OKC.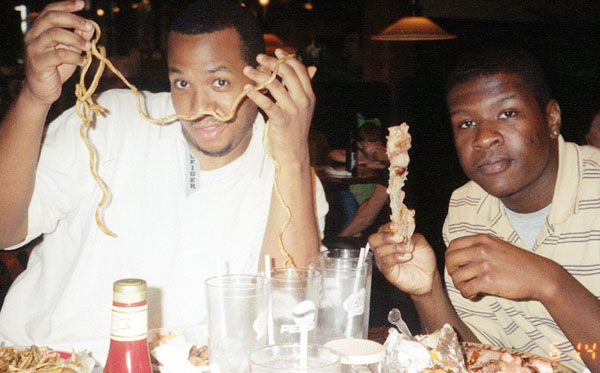 While in OKC, they ate at the Brewery.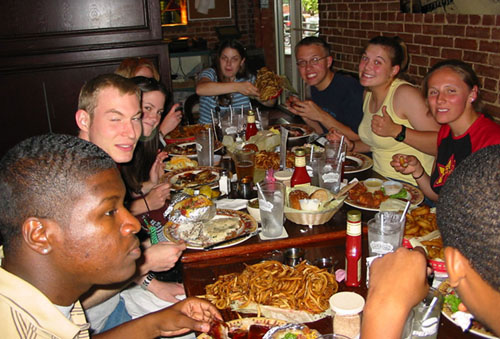 They were proud of their long fries.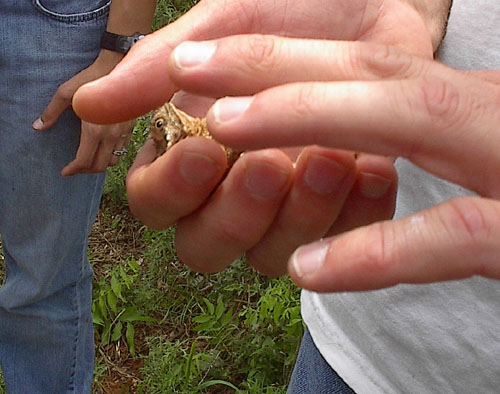 This is a hornytoad.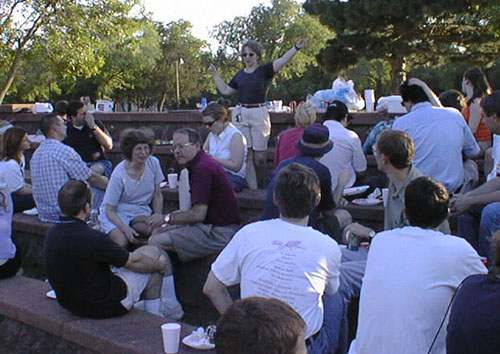 Daphne at the Welcome Picnic.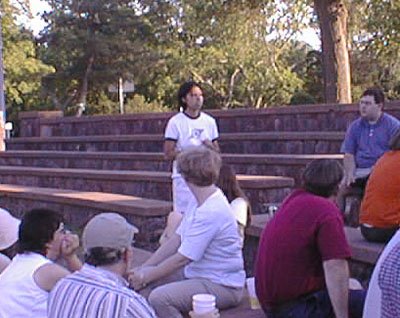 Here's Maribel too.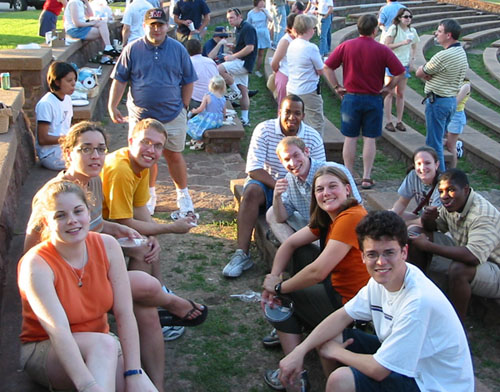 And here's all of us at the picnic.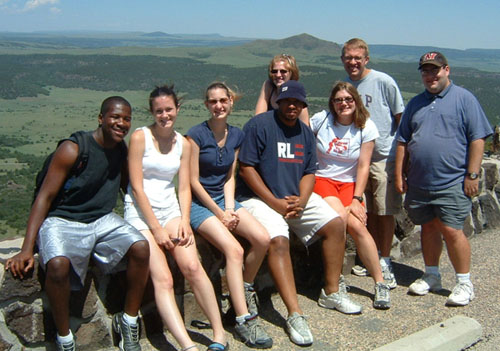 Most of the students took an Independence Day EXTREME Road Trip.
While on the trip, they saw buffalo...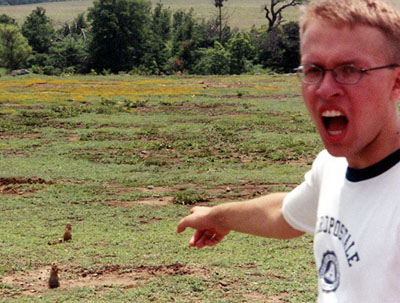 and some prairie dogs...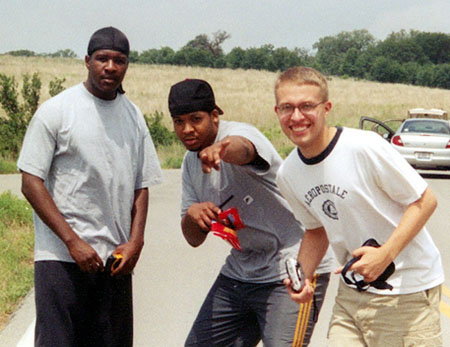 Allen, Marc, and Nick, being cool.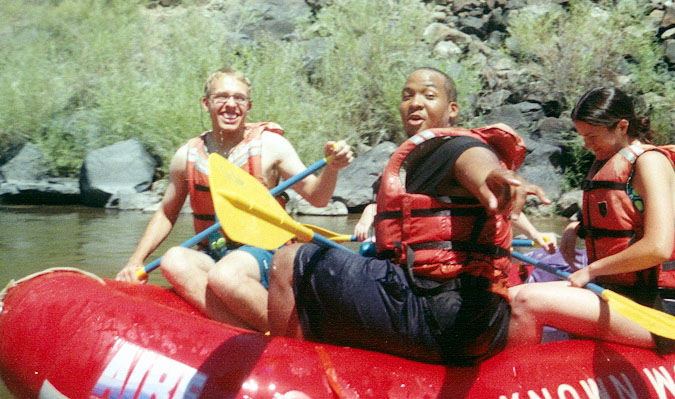 They all went rafting...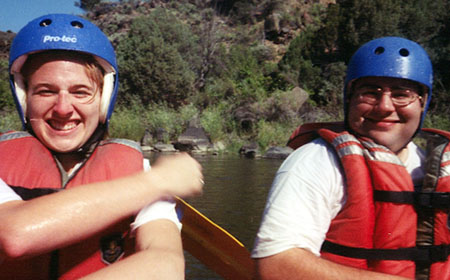 and rafting some more.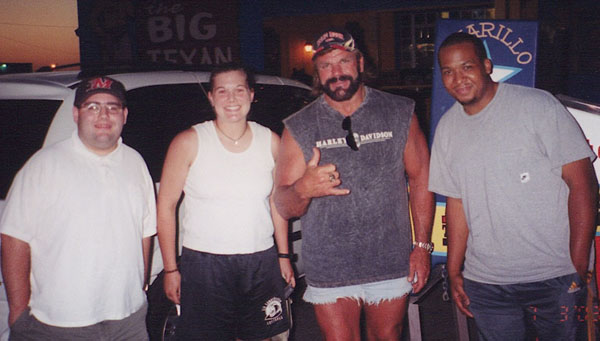 They met a professional wrestler at The Big Texan restaurant.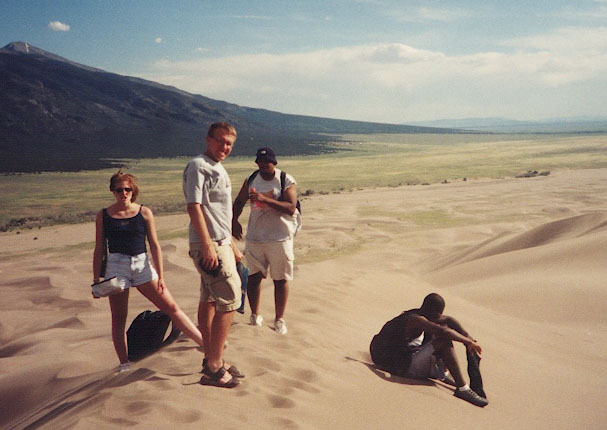 What a climb the Great Sand Dunes were!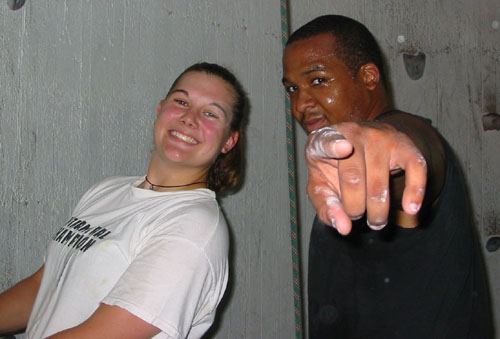 Back in OK, the students took a trip up to the OKC climbing wall.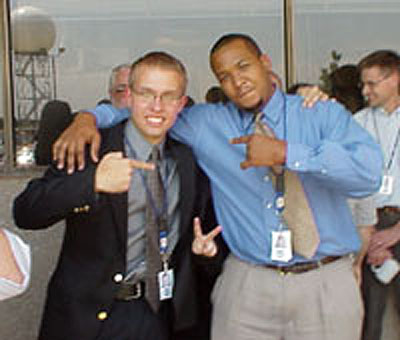 My homies, Nick and Marc.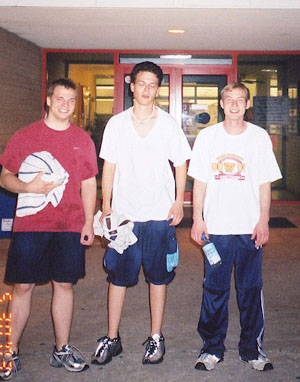 Working out at the Y, for body, spirit, and mind.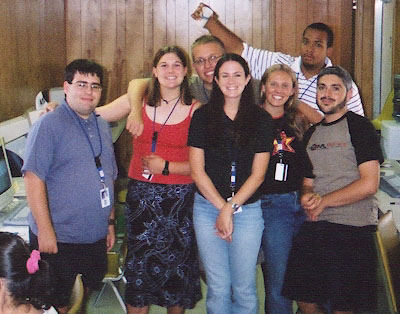 The IHOP Trailor Crew, with the pranksta, Marc.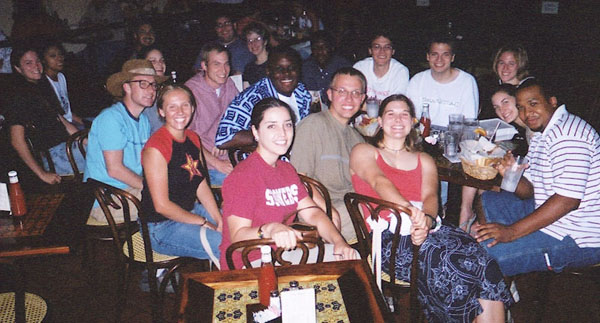 Jenny's birthday at the Mont.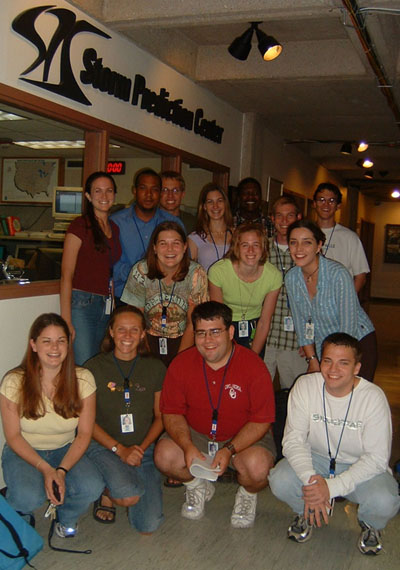 All of us and the SPC.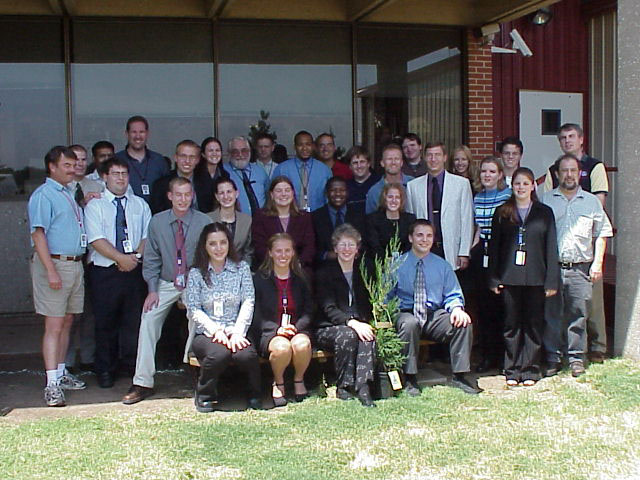 All the REUers, ORISEers, and mentors.